About me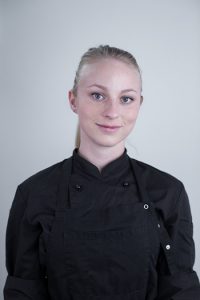 Martina Andersson, I'm 24 years old, I grew up and studied on the west coast of Sweden, I attended three years of culinary school there and graduated in 2010. I have since spent 5 years working in restaurants and hotels in Norway and Sweden. Most recently one year at Panorama hotel in Gothenburg. Most of my experience is in a la carte service in restaurants, with that creating dishes menus. I enjoy my work; I'm used to working at a high tempo with high standards. I love to learn new skills and I try to get inspiration from every new experience.  Now I'm looking for work on yachts either as a chef, steward or deckhand.
Cooking and traveling (preferably by sea) are my passions.  From summer 2014 to summer 2015 I spent a year sailing, (from Sweden to Scotland, Ireland, Spain, Portugal, the Canaries, to the Caribbean where we spent five months sailing amongst the islands. After that, back to Sweden via the Azores and England.) Along this trip my fiancé (with whom I have been working and living happily for many years) and I realised we wanted to make this our work, so we are trying to find a place to start a new career.
Certifications:
STCW 2016/12/02
ENG1 2016/11/30
Work experience
Sous-chef (1/10 2015 –1/10 2016)
Brasseri P, Panorama hotel (Eklandagatan 57 Gothenburg)
Panorama is a big conference hotel in central Gothenburg, with 360 rooms. The restaurant Brasseri P served up to 180 guests, both a la carte service and functions. The hotel is part of the Nordic Choice chain
Head chef (1/2 2014 –1/6 2014)
Den Andre Cafeén (Ivan Bjørndals gate 9, Oslo)
Den Andre Cafeén is a small theatre-café in a popular improv-comedy theatre in Oslo.
I spent a few months in charge of the kitchen cooking all organic locally produced dishes. Serving only 30-70 dinner guests per night as well as baked goods, pies and other café foods.
Chef (1/11 2011 –1/1 2014)
Sundbytunet mat & mer (Gardemovegen 6, Jessheim)
Smaken av Sundbytunet was elegant, rustic fine dining; a modernized take on local traditional Norwegian dishes. Alongside the restaurant was a microbrewery pub, a café, conference centre and a delicatessen. We served conferences and functions of up to 200 guests as well as an a la carte restaurant that seated 70.
Cook (1/3 2011 –1/9 2011)
Skipphelle (Skiphellevegen 1, Dröbak)
Skipphelle was a 45 room conference hotel beautifully situated in the Oslo-fjord. The restaurant seated up to 400 guests, we mainly served functions such as big weddings, parties, conferences. I worked breakfast, lunch and dinners. Unfortunately the hotel closed as they were unable to get building permits for needed renovations.
Cook (1/5 2010 –1/10 2010)
Galejen ( Västra bovägen 2, Koster)
Straight out of school I worked a hectic season at Galejen, it is a busy tourist spot all summer.With simple classic Swedish dishes we served up to 500 guests per day with only two cooks.
Education
Strömstad Culinary school (9/6-2010)
I studied three years at Strömstad gymnasium in the culinary program.
Alongside the school courses I completed six months apprenticeship in various different restaurants.