SHORT ABOUT ME: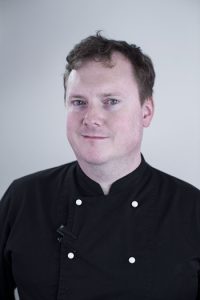 I've been working in kitchens since 2004, as a proper cook since 2007, before attending culinary school I worked as a sound-engineer and musician. Did freelance work as well as worked for the Swedish Public Service Broadcasting.
Right now I have my base in Sweden but am free to go where ever work takes me.
I've got a wide culinary spectrum and have done my time in big hotel kitchens as well as in smaller fine dining establishments. Stress, small spaces and having to solve unseen problems are nothing new to me as I've done time in small and hectic kitchens where thinking on my feet has been a must.
Last couple of years I've worked mostly sous-chef and head-chef positions taking more and more responsibilities, getting more and more proficient when it comes scheduling, ordering, menu-planning, hygiene and logistics.
I've crossed the Atlantic Ocean 4 times with my family's 32 feeter, the first two times with my father and in 2014-2015 me and my fiancé crossed it with me as skipper. I've been raised close to the ocean and I've been sailing all my life. Doing these trips and getting to where I am career wise have taught me to trust in myself to handle whatever life or work brings my way.
I'm a team player with a good sense of humor, can handle stress and lack of sleep well and always find a way to dig deeper for more energy.
As a leader I'm trying to lead by example and I rather carry than pushing my kitchen team in difficult situations. I have good management skills and make sure that my staff and colleges know what's happening at all times.
Certifications:
STCW 2016/12/02
ENG1 2016/11/30
WORK EXPERIENCE

2015-09-01 T0 2016-09-30
Quality Panorama, Gothenburg Gothenburg, Sweden
HEAD-CHEF
Head-chef as the ordinary one took paternity leave during a year.
We had 368 rooms and usually catered a la carte in the evenings to about 70-180 people each night As well as conferences, functions and other events. We did set a weekly menu for the lunch groups, staff food, evenings and functions as well as the regular restaurant and group-menus.
As the hotel is part of the Nordic Choice chain there was a lot of paperwork required to keep the economy department happy.
2011-10-01 TO 2014-06-30
Sundbytunet Jessheim, Norway
SOUS-CHEF/HEAD-CHEF
Came in to the project during start-up and stayed there the first years to help weed out all the problems that comes with people with no restaurant experience starting up their dream restaurant.
In the beginning the focus was on fine-dining versions of local dishes using local and sustainable ingredients. After a while it changed focus towards regular food with a high standard.
We seated 60 people in the main restaurant plus 60+200 in the bar and banquette rooms as well.
As we had a microbrewery in the basement we focused some of our food towards beer as an ingredient.
2011-02-05 TILL 2011-09-30
Skiphelle fjordhotell Dröbak, Norway
HEAD-CHEF
Worked as head-chef at a 45 room Conference hotel close to Oslo. The hotel closed down and I kept it running until the end of my contract.
Main focus where corporate groups, weddings, big parties and other functions. The hotel seated up to 400 people even though its few rooms.
2010-07-01 TILL 2010-12-31
Restaurang Källviken Strömstad, Sweden
SOUSCHEF
A la carte and seafood restaurant.
Shared responsibilities with the head-chef in planning menus and schedules.
Because of the seasonal location we had a big team during high season in the summer and a skeleton crew in the winter. We had to make sure that the quality and food costs stayed the same no matter the staffing.
2010-01-01 TILL 2010-06-30
Villa Maritim Marstrand, Sweden
CHEF DE PARTIE
Close to Gothenburg, Marstrand has a lot of big hotels that during the spring cater to big corporate events as well as to small groups of families.
This was a temporary position as one of their regular chefs was on maternity leave.
2009-09-01 TILL 2009-12-31
Christmas season Bohuslän, Sweden
COOK/SOUSCHEF
Freelanced during the autumn and Christmas season (which in Sweden is big because of our smörgårdsbords tradition) Jumped between a couple of restaurants and helped out doing various tasks during that time.
2008-08-01 TILL 2009-08-31
Restaurang Bryggan Strömstad; Sweden
CHEF/SOUSCHEF
Small restaurant in Strömstad where we during the summer had 100 seats and in winter 35. Those 35 seats managed to seat 120 during lunch which made it one of the more hectic places.
During the off season one usually did all prep work during the day while serving lunch making it a great place to learn multitasking.
One of my mentors that I've been working with for a long time David Vidal, was the head-chef and I've worked as a sous-chef and line-cook for him a couple of times more.
2008-04-01 TILL 2008-08-01
Hotell Ekenäs Syd-Koster, Sweden
COOK
A Hotel out on an island. In the preseason (April till June) we had a lot of events where we cooked on the beaches, served the fish our guests caught in the ocean next to the hotel and focused our seasonal menus to suit every customer.
During the high season we changed and did a new menu every night pleasing our steady stream of guests who came to the island to experience the coast with its seafood.
EARLIER EMPLOYMENTS CAN BE PRESENTED IF NEEDED.
EDUCATION
2004-2006         Culinary school, Graduated in the spring of 2006                     Uddevalla/Sweden
REFERENCES
Will send separate references if needed.
MISC.
Swedish drivers license
Over 25000 NM of sailing experience so far.
Confident user of Photoshop and other photo editing.
Quite capable in managing web sites.
Proficient in audio editing software and sound engineering
PADI Open Water